Webinar hosted by The George Institute for Global Health
Topic "Is High Income Country HTA relevant to Middle Income Countries?"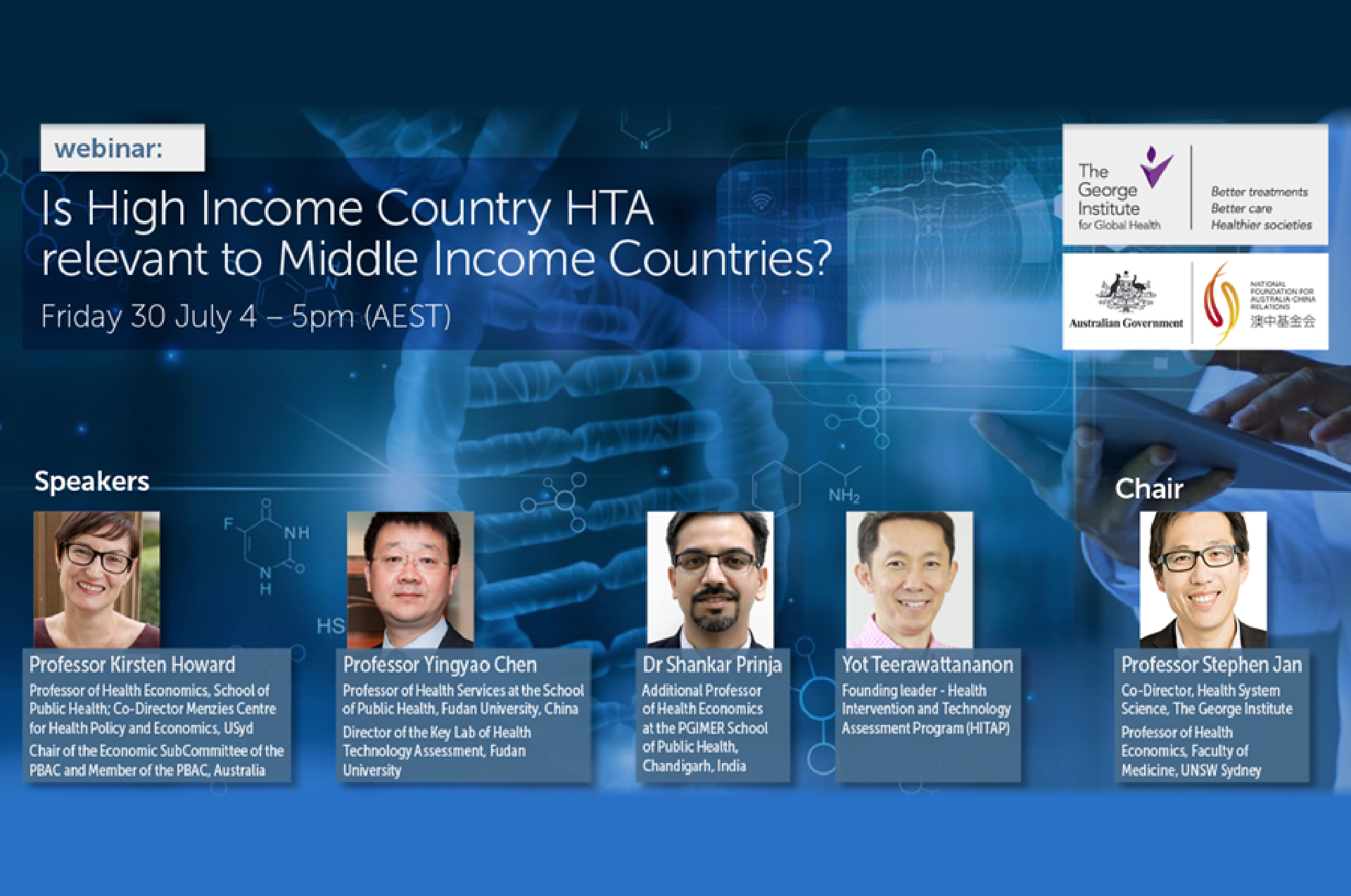 Description
Resource allocation in health is universally challenging. Pursuing a strategy of evidence-based decision-making and using tools such as Health Technology Assessment (HTA) can help address issues relating to both affordability and equity when allocating resources. HTA is a mechanism or process to support evidence-informed decision-making in the health system, in a consistent, fair and transparent process occurring within a well-defined legal framework.
Panellists will share perspectives on the current approach to HTA and processes for HTA structure, practices, application, capacity, gaps, and solutions in their respective jurisdictions and what lessons can be learned from the 30 years of Australian HTA experience. The webinar will be relevant to those researchers and policymakers with an interest in HTA and resource allocation in health.
This webinar is part of the COoperation between Australia and China in HTA (COACH) project which aims to promote China-Australia co-operation in HTA through knowledge exchange and research collaboration. This initiative is funded by The National Foundation for Australia-China Relations. This series aims to facilitate collaboration and learning, and provide an opportunity for outreach and connection with the HTA community.
Speakers
Professor Stephen Jan  
Co-Director, Health System Science, The George Institute
Professor of Health Economics, Faculty of Medicine, UNSW Sydney
Professor Kirsten Howard
Professor of Health Economics, School of Public Health; Co-Director Menzies Centre for Health Policy and Economics, University of Sydney
Chair of the Economic SubCommittee of the PBAC and Member of the PBAC, Australia
Professor Yingyao Chen
Professor of Health Services at the School of Public Health, Fudan University, China
Director of the Key Lab of Health Technology Assessment (National Health Commission), Fudan University
Dr. Shankar Prinja
Additional Professor of Health Economics at the PGIMER School of Public Health, Chandigarh, India
Yot Teerawattananon, PhD.
Founding Leader – Health Intervention and Technology Assessment Program (HITAP), Ministry of Public Health, Thailand